Please note: to avoid disappointment we advise you to book your games, in addition, SUPER Frantic Friday must be booked. Thank you.
What is Lazer-Tag?
Lazer-Tag is a modern and dynamic adventure game suitable for all ages from 6 years upwards. You'll play in our exciting 2 level Lazer-Tag Arena using Begeara Black Paw Phasers. The object is simple, just score more points than the other players! Up to 18 people can play as part of a team or as lone crusaders.
You've more than 18 people?
No problem, just take it in turns. You'll have time to create a new strategy or simply take a breather from the mayhem! Will you play a game of stealth and strategy? Or just blast anything that moves? You choose!
The Laser Tag Phasers
The Begeara Black Paw Phaser is lightweight, compact and requires a two-handed operation for extra safety. It's a Phaser only system, meaning no vest is required and is therefore easy for small children too.
It's bright LED lights clearly indicate your team colour or solo play and the phaser screen shows your rank and score throughout the game.
The Phasers also respond to your gameplay action with vibration and MP3.
The Laser Tag Arena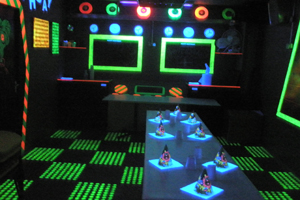 Our Arena has vibrant UV artwork and pumping sounds to create an exciting atmosphere!
The Lazer-Tag Party Room is totally unique! 
Specially designed with more fluorescent monsters to create a party atmosphere like no other in Suffolk. It's popular, so book early for busy times! You can jump to our Parties page here.
Lazer-Tag is ideal for
Family days out

Sports, youths and adult groups

School trips

Pro Lazer-Tag gamers

Birthday Parties
Our Lazer-Tag Arena is open from 10.00am, please call us on 01473 611333 for availability.
SPECIAL EVENT: SUPER Frantic Friday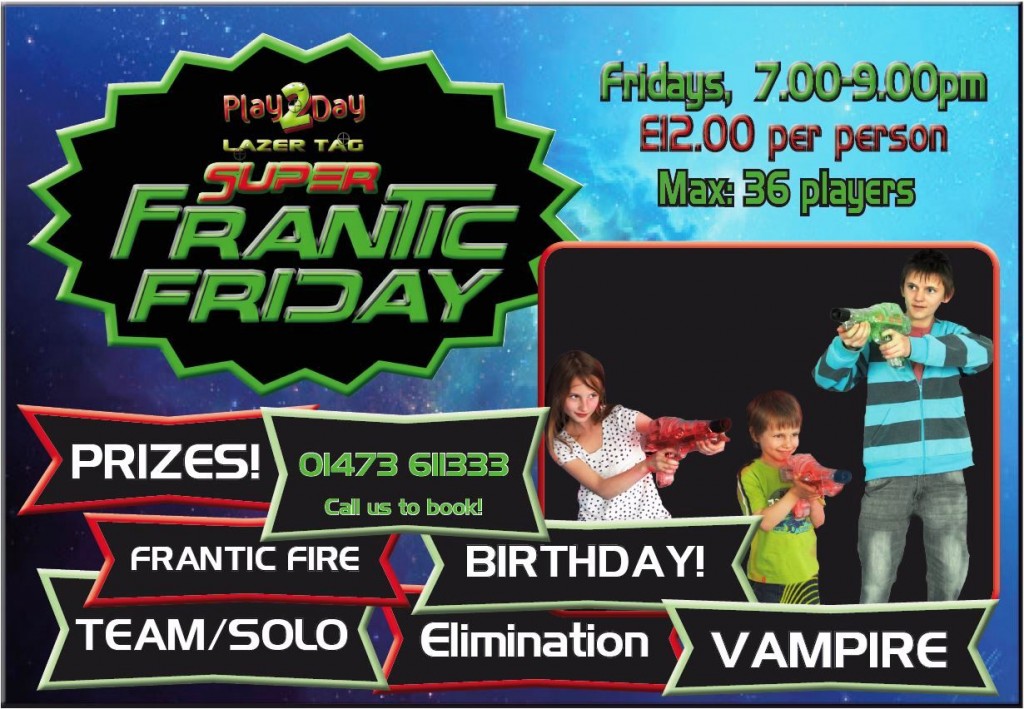 2 hours of unlimited games for £12.00.  Join in because it's SUPER frantic, fantastic fun :-)
Children
All children must be supervised by an adult aged 18 or over.
Booking
Book your place now on 01473 611333.  
Open Times
SUPER Frantic Friday takes place every Friday except on bank holidays, Christmas and New Year Fridays.
So come to Play2Day's Lazer-Tag Arena and have a blast!
| | |
| --- | --- |
| | DAYoutWITHtheKIDS.co.uk – an easy to use website for finding places to visit with your family all over the UK. Searchable by age of kids, county, town, postcode and indoor or outdoor attraction. |